Everyone has their own idea of the perfect brownie, and here's one for those who prefer them on the intensely chocolate side. The base is made with a good amount of bittersweet chocolate and is sweetened with a mixture of white and light brown sugar, for a slightly caramelized, deep chocolate flavor. The kicker is the addition of more chocolate – in the form of semisweet chocolate chips (or chunks) – that melts into the batter and brings them to a whole new level of chocolatiness. Since chocolate's the main ingredient here, make sure to use a good one.
Makes 9 large brownies or 36 small ones
Ingredients
---
12 tablespoons (170 grams) unsalted butter, cut into tablespoons
9 ounces (255 grams) bittersweet chocolate (70%), chopped
4 large (200 grams) eggs
3/4 cup (150 grams) granulated sugar
½ cup (108 grams) light brown sugar
2 teaspoons vanilla extract
½ cup (65 grams) all-purpose flour
¼ plus 1/8 teaspoon fine sea salt
¾ cup (4.5 ounces/127 grams) large semisweet chocolate chips or chocolate chunks or coarsely chopped semisweet chocolate (I use 64% chocolate here)
Instructions
---
Position a rack in the center of the oven and preheat the oven to 325˚F. Line a 9-inch square baking pan with foil, letting the foil overhang two opposite edges by 2 inches, so you can lift the brownies easily out of the pan. Spray the foil with non-stick cooking spray or brush it with butter.
Set a heatproof bowl over a saucepan half filled with simmering water. Place the butter and chocolate in the bowl and heat, stirring occasionally, until the ingredients are just melted. Remove the bowl from over the pan of water and allow it to cool slightly.
Meanwhile, in a medium bowl, whisk the eggs, sugars and vanilla together until well blended. Stir in the melted chocolate mixture until well blended. Stir in the flour and salt until just blended. Stir in the chocolate chips or chunks. Scrape the batter into the prepared pan and bake for 30 to 40 minutes, or until the top is matte and a skewer inserted into the center comes out with a few moist crumbs clinging to it (if you want them slightly gooey, bake them for 30 minutes; they will set up as they cool) . Transfer the pan to a wire rack and cool completely.
To cut the brownies, chill them in the pan for about 30 minutes. Using the foil as handles, lift the brownie slab out of the pan and invert it onto a cutting board. Peel off the foil, then reinvert the brownie slab. Using a sharp knife, cut the brownie slab into 9 large squares or 36 small squares. Store the brownies in an airtight container at room temperature for up to 3 days, or freeze them, well wrapped, for up to 3 weeks.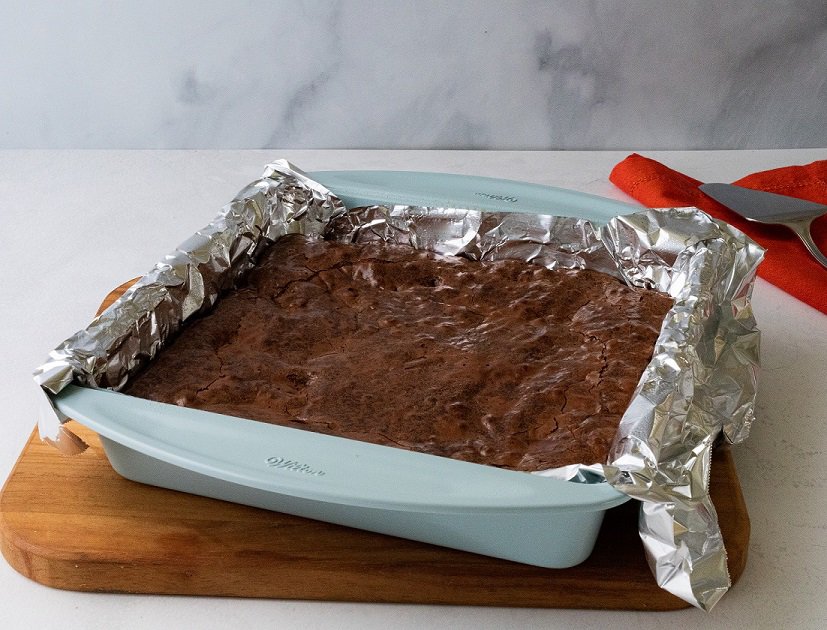 Recommended equipment:
---
Non-Stick Pro Cake Pan Square 9 x 9 Inch