Cranberry and orange is a classic flavor combination, and one I adore, particularly in this tender, buttery shortbread cookie. I like to make these in 7-inch tart pans, which give the cookies a pretty fluted edge, but an easy alternative is to use the flat bottom of standard pie pans. Though they are delicious as is, I've gussied them up by dipping their tips in some tempered white chocolate and sprinkling them with some orange zest. These would be a great addition to the holiday cookie tray, but because they're made with dried (as opposed to fresh) cranberries, you can enjoy them any time of the year.
Makes 24 cookies
Special Equipment: two 7 1/2-inch round fluted tart pans with removable bottoms or two 9-inch glass or ceramic pie pans.
Ingredients
---
Cranberry-Orange Shortbread:
1 cup (130 grams) all-purpose flour
1/2 cup (85 grams) rice flour
1/4 teaspoon salt
1/2 cup (100 grams) granulated sugar
1 teaspoon vanilla paste or extract
3/4 teaspoon finely grated orange zest
12 tablespoons (170 grams) cold unsalted butter, cut into 1/2-inch cubes
1/3 cup (46 grams) dried cranberries, chopped
2 teaspoons coarse sugar, for sprinkling (available here)
Garnish:
1 tablespoon finely grated orange zest
8 ounces (227 grams) white chocolate, melted and tempered (see some excellent tempering instructions here) OR 8 ounces (227 grams) Ghirardelli white melting wafers, melted
Instructions
---
Position a rack in the lower third of the oven and preheat to 300°F. Have two 7 1/2-inch fluted tart pans with removable bottoms or two 9-inch glass or ceramic pie pans at hand.
Place the all-purpose flour, rice flour and salt in the bowl of a food processor and pulse on and off until blended. Add the sugar, vanilla paste, and orange zest and process a few seconds until blended. Scatter the butter cubes over the flour mixture and process in on/off pulses 6 to 7 times. Then process for another 6 seconds. The crumbs should be fine and powdery. Add the cranberries and process for another 5 to 7 seconds, until the crumbs are clumpier and the dough holds together easily when pressed. Press the crumbs evenly and firmly into the tart pans (if you use the pie pans, press the dough only into the 7-inch flat bottom of the pans.) Press the back of a fork all around the edge of each pan, and sprinkle the shortbread evenly with the coarse sugar. Bake the shortbread for 45 to 50 minutes, until it is just barely colored a creamy beige (don't let it brown). Place the pans on a wire rack and let cool for 15 minutes.
Remove the rims of the pans (if you are using the tart pans), and cut each round into twelve wedges while it is still very warm. Transfer the triangles to the wire rack and cool completely.
Garnish the shortbread:
Place the orange zest in a microwave-safe container with a flat bottom. Microwave it at high power uncovered at 10-second intervals, stirring after each interval, until it is dry (just over a minute, usually). Let the dried zest cool completely, then process it to a fine powder in a spice grinder.
Dip the pointed ends of the shortbread triangles in the melted chocolate or coating, covering almost half the cookie. Sprinkle the chocolate with some of the orange zest powder. Place the cookies on a wire rack and allow them to set completely. Store in an airtight container at room temperature for up to a week.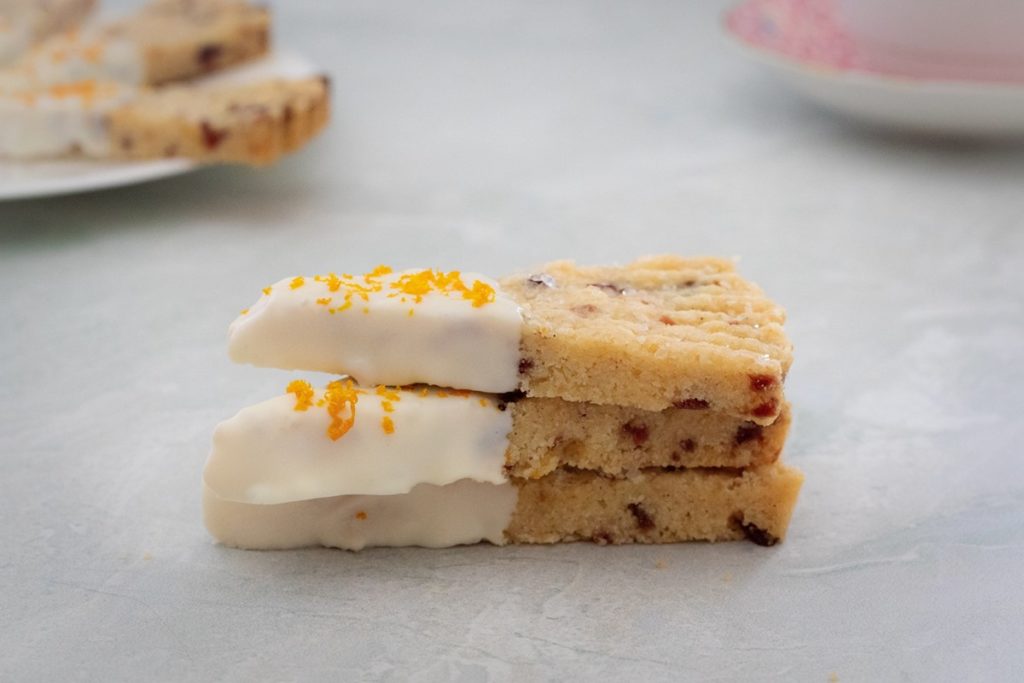 Recommended Equipment:
---
CHEFMADE Tart Pan, 7-Inch with Removable Loose Bottom Non-Stick Round Quiche Bakeware for Oven and Instant Pot Baking