This recipe comes to us straight from one of our favorite new books, Anna Olson's Baking Wisdom: The Complete Guide: Everything You Need to Know to Make You a Better Baker (with 150+ Recipes) by Anna Olson. It's a classic lemon cake, which, according to Anna, "makes its own lemon curd at the bottom as it bakes, and is super lemony, while the top of the cake develops a tender caramelized crust." She also advises, "If you're making this cake ahead of time, prepare the batter up to 2 hours before and let it stand on the counter. Hold off on whipping the egg whites and folding them into the batter until right before you bake the cake."
Makes one 6-cup (1.5 lt) dessert, serving 6 to 8
---
Ingredients
3 large eggs, separated, at room temperature
1½ cups (300 g) granulated sugar, divided
¼ cup (60 g) unsalted butter, at room temperature
Finely grated zest of 2 lemons
½ cup (75 g) all-purpose flour
½ tsp baking powder
¼ tsp fine salt
1½ cups (375 mL) milk
²/³ cup (160 mL) lemon juice
1 tsp vanilla extract Icing sugar, for dusting
Fresh berries, for serving
---
Instructions
Preheat the oven to 375°F (190°C) and lightly grease a 6-cup (1.5 lt) shallow ceramic baking dish.
Whip the egg whites if you are ready to bake the cake. Using electric beaters or a stand mixer fitted with the whip attachment, whip the egg whites on high speed until foamy. Gradually pour in ¼ cup (50 g) sugar, continuing to whip until the egg whites hold a medium peak when the beaters are lifted. Set aside or, if using a stand mixer, transfer the whites to a separate bowl (no need to wash the stand mixer bowl).
Make the base batter. Using electric beaters or a stand mixer fitted with the paddle attachment, beat the butter, remaining 1¼ cups (250 g) sugar and lemon zest together on medium speed until combined. Add the yolks, scraping down the bowl if needed. Sift in the flour, baking powder and salt and mix until blended and smooth—the batter will be thick. Slowly pour in the milk while mixing, stopping to scrape the bowl occasionally. Add the lemon juice and vanilla and mix until combined (the batter will be very fluid).
Fold in the egg whites. Add a third of the egg whites to the batter and fold in. Add the remaining whites and fold in until no white streaks are visible. Pour the batter into the prepared pan.
Bake the cake for 40 to 45 minutes, until the top is an even rich golden brown and the sauce is bubbling at the sides. Let the cake cool for 10 to 20 minutes, then dust with icing sugar before bringing to the table to serve. Spoon into dishes and top with fresh berries. Although this style of dessert is typically served warm, I actually prefer it chilled. The sauce really takes on a lemon curd character and the cake stays soft and moist. Leftover cake will keep, loosely covered, in the fridge for 2 days. Serve cold or rewarm in the microwave.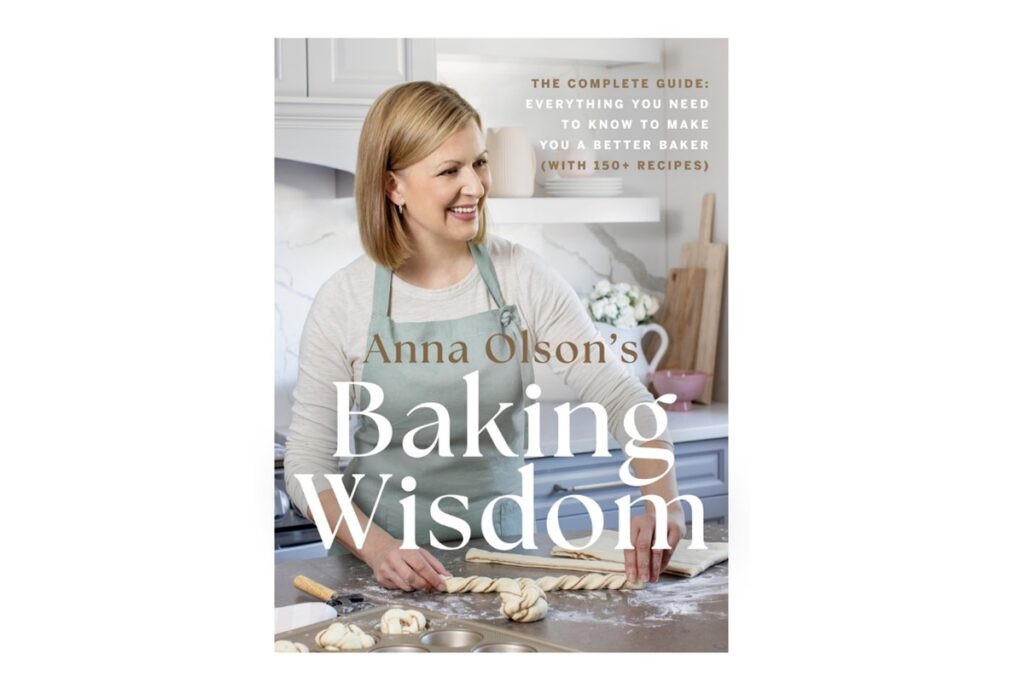 Excerpted from Anna Olson's Baking Wisdom: The Complete Guide: Everything You Need to Know to Make You a Better Baker (with 150+ Recipes) by Anna Olson. Copyright © 2023 Olson Food Concepts Inc. Photography by Janis Nicolay. Published by Appetite by Random House®, a division of Penguin Random House Canada Limited. Reproduced by arrangement with the Publisher. All rights reserved.