These lemony shortbread cookies are among my favorite treats. They're made with a lot of butter, so they're exceptionally tender, and they have a lovely lemon flavor that's rounded out by the earthy notes of poppy seeds. The dough is a bit fragile to work with, so make sure to dust it with flour as needed, and turn it over frequently as you roll it. These cookies make an ideal Valentine's Day gift for friends or someone special.
Makes about 36 cookies
Ingredients
---
Cookie Dough
16 tablespoons (227 grams) unsalted butter, softened
1/2 cup (100 grams) granulated sugar
1 large (19 grams) egg yolk
1 tablespoon (15 grams) finely grated lemon zest
3/4 teaspoon lemon paste or extract (preferably Nielsen-Massey)
1/2 teaspoon vanilla extract
1/8 teaspoon ground cardamom
¼ teaspoon fine sea salt
2 cups (260 grams) all-purpose flour
1/4 cup (28 grams) poppy seeds
Garnish
10 ounces (283 grams) white chocolate, melted and tempered (see some excellent instructions here), or white confectionary coating (i.e., Ghirardelli white melting wafers), melted
1 ½ teaspoons finely grated lemon zest
Instructions
---
Make the dough
1. In an electric mixer, using the paddle attachment or beaters, beat the butter at medium speed until creamy, about 30 seconds. Gradually add the sugar and beat at medium-high speed until light, about 2 minutes. Reduce the speed to medium-low and add the egg yolk, lemon zest, vanilla and lemon extracts, cardomom and salt and mix until combined, scraping down the sides of the bowl with a rubber spatula as necessary. Add the flour and poppy seeds and mix at low speed until combined. Turn the dough out onto a piece of plastic wrap, pat it into a rectangle, and wrap it up. Refrigerate the dough for 1 hour (or up to 3 days).
Cut and bake the cookies
2. Position a rack near the center of the oven and preheat to 350°F. Line 2 baking sheets with parchment paper. Remove the dough from the refrigerator and allow it to soften at room temperature for about 15 minutes.
3. Divide the dough into 2 equal parts; rewrap half. Place the other dough piece on a lightly floured work surface and roll it out about 3/16 inch thick, turning it frequently and dusting with more flour as necessary. Use a 2 1/2-inch heart-shaped cookie cutter to cut cookies from the dough. Transfer the dough hearts to the baking sheets. Gather up the scraps of dough, reroll them, and cut out more hearts. Repeat the process with the remaining piece of dough. Bake the cookies for 13 to 15 minutes, until they are a pale brown around the edges. Place the baking sheet on a wire rack and cool the cookies completely.
Garnish the cookies
4. Line a baking sheet with parchment paper or a silicone baking mat. Place the melted chocolate in a plastic half-pint container or a similar sized bowl. Dip 1/3 of each cookie into the chocolate, letting the excess chocolate drip back into the container. Place the dipped cookie on the prepared baking sheet and sprinkle the chocolate with a little lemon zest. Repeat with the remaining cookies until you have filled a baking sheet. Refrigerate the cookies to set the chocolate. Repeat with the remaining cookies and chocolate. Store the cookies in an airtight container at room temperature for up to 5 days.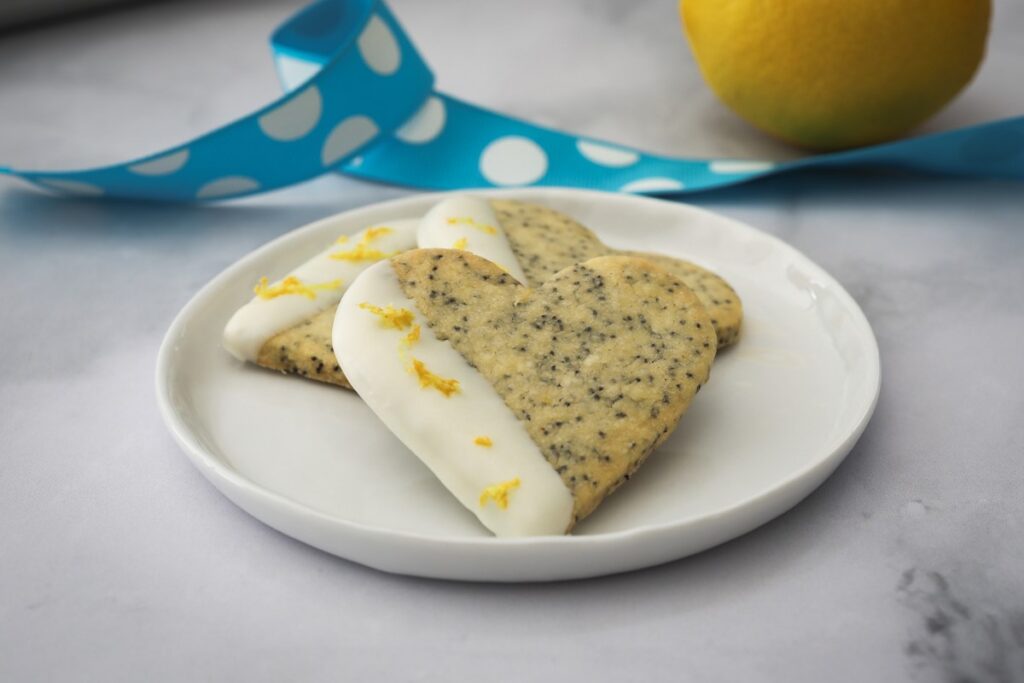 Recommended Equipment
---
BakingWorld Heart Cookie Cutter Set,9 Piece Heart Shapes Stainless Steel Cookie Cutters Mold